How to register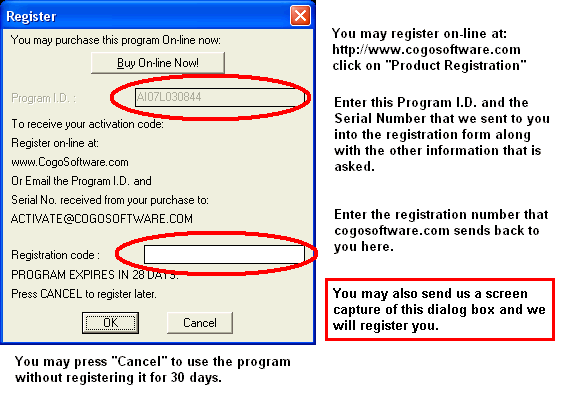 Steps to register your CogoSoftware product:
You may use your serial number along with the product I.D. that will appear in a dialog box when you use the program to register your program on-line at our web site:
CogoSoftware Product Registration
You will then receive a registration code, which you will need to copy & paste (or type) into the registration dialog box.
The registration code will appear on the web site after successful registration and it will also be sent to you in an email.
If you would like us to register you, send us an email with the following information:
Serial Number
Program I.D. or screen capture (see below)
Name
Address
City, State, Zip, Country
Sometimes it is easy to confuse the letter O with the number 0
Or the capital i (I) with the number 1.
If you have trouble reading the Program I.D. you can email us a screen capture of the registration dialog box when it appears.
Steps to make a screen capture:
When the dialog box appears press both the "ALT" key and "print screen" key together.
Then open windows paint and select Edit->paste.
Save the file.
Attach it to an email.
The program will run for 30 days without being registered.